Sports Reports
Henfield Cricket Festival – 27th June 22
On Monday 27th June, St Peter's played in our annual cricket festival at Henfield Common. We entered two teams of yr5/6 children and played against our locality schools, Steyning, Upper Beeding and Jolesfield. Both teams played extremely well although the scores did not always reflect the level of play and came up against a strong Jolesfield and Steying team. 
We were lucky with the weather and despite the forecast, only had a few spots occasionally and then a 15minute down pour which had us all running for cover. The rain soon dried up and we were back out playing. The day rounded off with an ice cream and glorious sunshine. 
Well done to our A team for winning all their games and bringing the trophy back to St Peter's. Barney and Henry had an amazing couple of overs batting, which saw our score against Steyning increase dramatically in the last two overs. Player of the Match for our St Peter's teams were Barney for exceptional batting and captaincy and Herbie for great bowling and teamwork. Despite some tough games and scores that did not reflect play, our B team played exceptionally well and had some cracking catches and wickets and played well as a team. 
I would like to thank Conway Thorns and Henfield Cricket Club for allowing us the use of their pavilion and facilities, Tammy Garmston for helping run the day, Jo Butler for scoring and facing all the challenges that came with that role and Tamsin Gibbs for keeping the teas and squash's flowing. Many thanks to the parents that came to support. 
Y6 Rounders – 23rd June 22
Congratulations to the year 6 rounders team who played in their tournament at Beeding school last Thursday. Our fielding throughout the tournament was phenomenal with some excellent catches by Zach and Holly. Our throwing from backstop (Roberta) to second base (Phoebe) caught out a number of unsuspecting children from the other schools. It is safe to say out team worked really well together, supporting and encouraging each other. We finished the afternoon having won two games against Beeding and Jolesfield and losing by 1 rounder to Steyning. Steyning also won two games and lost one, so the final result came down to rounders. Unfortunately we lost out on first place to Steyning by one rounder finishing in second place overall. Well done to the whole team and thanks to the parents who came to support. 
Y1 Multi Sports – 20th June 22
On Monday Y1 enjoyed a morning of Multi-skills alongside visitors from Upper Beeding school. The children took part in 8 different sporting activities throughout the morning, as well as enjoying a snack and a playtime with their new friends. After not being able to hold activities like this for the past few years it was really lovely to see all the children mingling together, getting along, and making new friends. We look forward to next year's event.
---
Sports Day Results – Friday 17th June 22
KS2: 1st – Kestrel, 960 points; 2nd – Hawk, 806 points; 3rd – Phoenix, 798 points; 4th – Eagle, 764 points.
KS1: 1st – Hawk, 1046 points; 2nd – Phoenix, 881 points; 3rd – Kestrel, 798 points; 4th – Eagle, 685 points.
Overall: Winners – Hawk, 1852 points; 2nd – Kestrel, 1758 points; 3rd – Phoenix, 1679 points and 4th – Eagle, 1449 points
---
Y5 Rounders 9th June 22
Congratulations also to the Y5 rounders team who played at Upper Beeding yesterday. Despite some last minute changes to the team, they played together extremely well and encouraged each other despite coming a close second to Steyning. We lost our first game to Steyning 3 1/2 rounders to 2 1/2 rounders, then went in to beat Beeding 8 rounders to 2 1/2 rounders and beat Jolesfield 6 1/2 rounders to 4 rounders. The team fielded amazingly, working together to get out a fantastic batter from Jolesfield. Rounders has the most complex set of rules of all the sports we take part in and despite popular belief, you only get one good ball thrown and then you must run. It can be quite daunting at times trying to remember all the rules. Well done Y5. 
---
Y4 Rounders 25th May 22
Congratulations to the Y4 rounders team who took part in a friendly match at Upper Beeding Primary School whilst I was with Y6 on the Isle of Wight. They faced a couple of tricky matches having had very little experience at playing rounders. They were all really brilliant and tried extra hard, but most importantly worked together well as a team, encouraging and supporting each other.
---
Cross Country Event 16th May 22
On Monday 16th May, a smaller than expected team of yr5&6's attended Steyning Primary School for our postponed Cross Country event. The event wasn't quite as expected as one school could not attend, which affected the rest of the running. As a school we can enter a team of 6 children, however only the first 4 children from each school team that cross the line are scored. We struggled to field a team for both year 6 girls and boys teams, so some brave and amazing year 5 children and 1 yr4 child, stepped up to fill in. A massive thank you to Toby, Logan, Kiera O, Elektra and Harry P.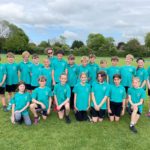 Based on these scores, we came second overall. However we had some fantastic individual results. Well done to Arthur (3rd), Oliver (1st), Logan (4th) and Phoebe (1st). However, a massive well done to all the children who took part and even more congratulations to all of them for finishing the race. 
---
Girls Football Event 23rd March 22
On Wednesday 23rd March, we held a girls football session on the school field. The aim of the session was to encourage more girls to play the "beautiful games" and get involved in football. 84 girls from across years 1-6 joined myself and 3 coaches from Henfield FC, learning new skills and having fun. We had a a wonderful afternoon and everyone enjoyed themselves. We'd like to say a big thank you to Donna, Pete and Kate who coach the wildcats and girls football teams, for coming to help run the session. #letgirlsplay #itsnotjustforboys
---
Cross Country – Monday 28th February & Thursday 3rd March 22
On Monday this week, a team of Y5 and 6 cross country runners competed at Windlesham House School for our annual Area Partnership Cross Country Finals. The children ran a tricky course of 1.8km through both grass and woodland terrain, which is somewhat different from running on our track at school. All the children that entered were amazing and should be proud of how well they did. 
As a result of some fantastic running, 6 of the children finished in the top 20 of their races and were selected to represent the Southern Area of Sussex under the Yellow Southern Sharks banner. Normally we have more time to practice for this event but due to unforeseen circumstances beyond our control, the Regional Finals were yesterday; a turnaround of just 3 days, which left us little time for the 2km race
Despite some nerves and wobbles prior to the event, 5 of the children ran and in true St Peter's fashion, smashed it. Well done to Phoebe (23rd) and Roberta (117th) who both finished their race and helped the Southern Sharks Y5 girls' team to finish 3rd overall. Well done also to Oliver (69th) and Harry (from Y4 58th) who both helped their Y5 boys' Southern Sharks team to finish in 3rd place also, and finally, congratulations to Arthur from Y6 (66th) who helped the Y6 Southern Sharks team to finish in 2nd place along with pupils from both Steyning Primary and Jolesfield. It is clear to say that we have a very strong cluster group of schools when it comes to sporting events. It is also worth noting that each race was made up of 180 children, so all the children should be proud of their achievements.
---
Netball – 7th & 15th February
Our Netball team took part in a mini netball tournament playing Upper Beeding and Steyning Primary schools. We got off to a fantastic start, beating Upper Beeding 7-0.  We then faced a tough match playing Steyning.  Our attacking play was excellent, particularly in the second half, but unfortunately, we narrowly lost this match.  The children played with great skill and determination and should be extremely proud of their team effort. We have now qualified to play in the Area Partnership finals in March.  Very well done to all of those involved and a big thank you to the parents for coming to support us.
---
Y3/4 Football – 9th February 22
Congratulations to our Y 3/4 football team who represented St Peter's at the Area Partnership finals in Littlehampton on Wednesday.  After winning 2 of our games and drawing 0-0 in 2, we qualified for the next round and played Steyning in the semi-finals. The team held there own but despite our best efforts, lost 2-0 after two superb goals. We faced Ashington Primary in the 3rd/4th place play offs, having previously drawn 0-0 in the group stages. We had a couple of chances to score but just couldn't seem to finish. The final result was 0-0 but rather than go to penalties, both schools decide a 3rd place draw was more fitting.
---
Football Tournament – 10th January 22