We aspire to create projects to nurture the creative imagination and encourage everyone to experiment, explore and take risks: celebrating children's abilities to creatively express themselves in different ways.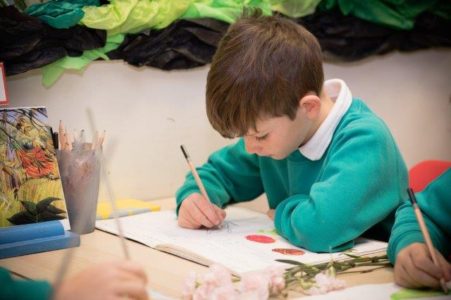 Art and Design at St. Peter's is colourful, innovative and exciting. We really value a creative curriculum. Through topic work, children have the opportunity to develop their art skills in key areas such as drawing, clay, textiles, sculpture, painting, print making and collage. Children are also introduced to the work of a variety artists and designers.
We value the traditional skills of observational drawing and teach children to question what they 'see' and explore with their eyes: developing an awareness of scale, pattern, shape, colour and texture. Children enjoy playing with different perspectives and examining unusual views.
Children thoroughly enjoy the imaginative approach to art lessons. They are guided to demonstrate their experimentations; explain their techniques and constructively critic the illusion they have created. As a result of this, there is always lively conversations during art classes where the pupils are given opportunities to interpret what they see and discuss their different opinions and perceptions.
Our Art policy can be viewed by clicking here
Our Art Skills Progression document can be viewed by clicking here